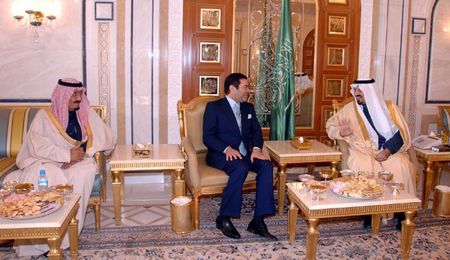 Agadir, February 19, 2009 - Outlining the priorities for the development of the intensive political dialogue at all levels and contributing to building up close diplomatic relations that will serve the interests of peace, His Royal Highness Crown Prince Moulay Rachid held a meeting with Crown Prince Sultan bin Abdulaziz Al Saud, Deputy Premier, Minister of Defense and Aviation and Inspector General.
Building on their numerous meetings in 2008 in Morocco and Saudi Arabia, Crown Prince Moulay Rachid and Crown Prince Sultan discussed the state and prospects of cooperation of Morocco and Saudi Arabia.
Special attention was focused on the ways of strengthening the sphere of economy, culture, education and science. In particular, the matter concerned of close cultural and humanitarian ties and the ways to intensified mutually beneficial cooperation, stressing the importance of the development of social communications.
Crown Prince Moulay Rachid, who has always been and continues to attach to centuries-long traditions of good international relations, emphasized the fundamental importance for Morocco of the deepening of strategic cooperation with the Saudi Arabia in all directions of sphere of influence.
Crown Prince Moulay Rachid also greatly expressed gratitude for not only a long-standing but also very fruitful cooperation between Him and Crown Prince Sultan, and appreciation for supporting Morocco on the part of the Kingdom of Saudi Arabia.