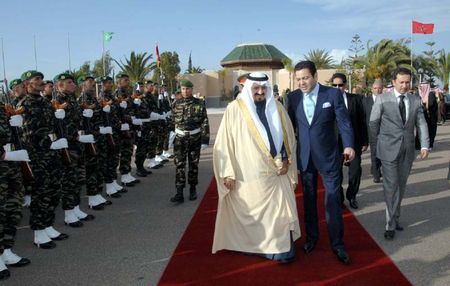 Agadir, February 20, 2009 -- Within the framework of the Morocco-Saudi friendly relations, His Royal Highness Crown Prince Moulay Rachid bid a farewell to Crown Prince Sultan bin Abdulaziz Al Saud, Deputy Premier, Minister of Defense and Aviation and Inspector General, at the Airport in Agadir.
It was noted that the level of friendly relations between the two Royals apprehended in the atmosphere of mutual respect and unity, fully reflecting significance of close relations between the Kingdom of Morocco and Saudi Arabia.
A powerful tête-à-tête meeting between Crown Prince Moulay Rachid and Crown Prince Sultan also marked the stay of Crown Prince Sultan in Morocco, making an important contribution to creating a positive tone in the relations between Morocco and Saudi Arabia.
For His part, Crown Prince Moulay Rachid once again expressed that the outcomes of the their meetings would serve to multi-term interests of Morocco and Saudi Arabia, development of both countries and raising of well being of the nations.
Cooperation in diplomatic relations, in particular in the diverse meetings in the region, is core interest of Crown Prince Moulay Rachid, playing an exceedingly important role in strengthening mutual understanding and trust, while working towards making the world more multi-polar and safer.