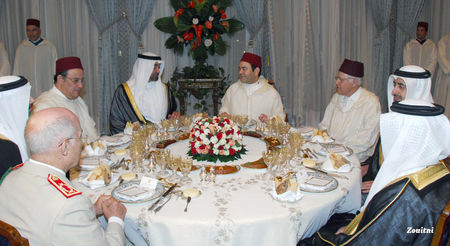 Rabat, May 11, 2009 – His Royal Highness Crown Prince Moulay Rachid was his usual elegant self in a Moroccan traditional djellaba with authentic traditional fes, as He hosted Monday evening a dinner banquet in honour of His counterpart Crown Prince of Abu Dhabi, His Highness Sheikh Mohammed bin Zayed Al Nahyan and the accompanying delegation, currently on an official visit to Morocco.
During the dinner, the two Crown Princes exchanged views on a number of their countries related issues and discussed relations of cooperation, particularly in the fields of economy, commercial and investment.
Crown Prince Moulay Rachid wished Sheikh Mohammed bin Zayed a pleasant stay in the Kingdom of Morocco.
Crown Prince Moulay Rachid also expressed the hope that his visit will further enhance fraternal ties between the Kingdom of Morocco and the UAE.