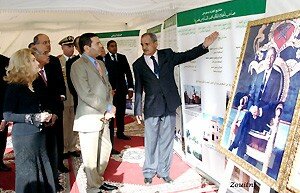 Morocco-Temara, July 27, 2007 – His Royal Highness Prince Moulay Rachid, Morocco's heir to the throne, stressed importance of awareness in promoting vision health and enhancing independence for people with vision loss as he visited the Education Training Institute for blind in Temara.
His Royal Highness pointed to the urgent need for commitment to research, public education, vision health, and equal capabilities for people who are blind and visually impaired.
On this note, His Royal Highness visited the exposition dedicated to technology, equipment, tools and other products for the blind or visually impaired.
His Royal Highness underlined the significance of providing opportunities, vital programs and services, innovative products, peer support, stressing focus on protection and prevention today, as well as on treatments and cures for tomorrow.
His Royal Highness continued his visit with focus on work that enables visually impaired people to have the same opportunities as sighted people to access to sport and recreational activities.
His Royal Highness called for active encouragement to pursue sport and to participate in sport at all levels, from grassroots to paralympic representation, as sport offers numerous benefits including improving health and mobility, broadening horizons, boosting greater confidence and independence.
His Royal Highness Prince Moulay Rachid, who plays a pivotal role in the development of Morocco's social service sector, has become the leading voice in improving social conditions and lifestyle of people.